Clear Views
Views, amazing beautiful views is what you can expect. Those views are so incredible that it never gets routine even after many years.
Coming from the main public road, where you have no views at all, it is hard to express in words the feeling when entering the trails. Just in front of you to the left rises the dormant volcano Congo, his hills covered with dense forest; turning your eyes to the right, all covered in forest, the mountain Von Frantzius stands strong. Behind this lays the active crater of the Poás. And a bit more to the right, you look at the clean slopes leading to the crater.
Looking closer, you can see all kinds of tropical trees standing proudly.
Trail views
Do not forget to admire the views you can have while walking the trails towards the blue waterfalls, especially the forest edges.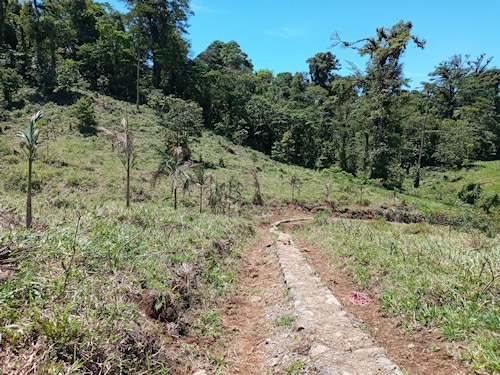 Top views
When you are close to the blue river and find yourself a good spot, the views are again superb. Now you look towards Juan Castro Blanco national park and all its beauty. And depending on where exactly you are standing, you have views to the hills south of Bajos Del Toro or towards the northern plains of Costa Rica.
Come over, become our guest, and embrace the views when the weather is nice.